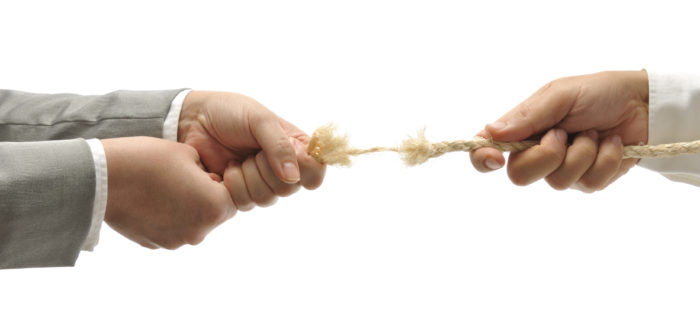 Recently an Executive Pastor of a large and growing church asked for my counsel on a perplexing organizational issue…..the working relationship tensions between ministry and support staff. As this is a fairly typical issue in large multi-department churches with specialized staff in ministry and support roles, I thought it would be helpful to post my responses to his specific questions.
When a Ministry makes a request for facilities that are not reasonable, who has authority?
1)      The key questions are who and how do you define what is reasonable? The who is usually the Executive Pastor in consultation with the entire staff or Senior Leadership Team. The how is by developing specific criteria in advance so most decisions are self-evident.
2)      Facility Request Criteria EXAMPLES: All facility requests and their required set-up, breakdown, and clean-up will be honored with the following exceptions:
If the event requires paying employee Over Time
If the event requires facilities to exceed their weekly/monthly/quarterly/annual budget for personnel or supplies
If, due to peak loading, facilities cannot find sufficient staff to work the event
If the event falls on a holiday (exceptions determined by Senior Leadership)
If the event is scheduled after the cut-off date
If the ministry exceeds their allotted number of "A" or "outside group" sponsored events for the year.
3)      Variances to the above criteria may be granted only by the Executive Pastor using the agreed upon ministry/program vetting criteria.
4)      If a variance is granted, the requesting Ministry may be asked to:
Provide volunteers and staff to set-up, breakdown, and clean-up
Fund from their budgets the necessary over time or the required additional support staff
5)      The Senior Leadership Team is responsible for the spacing of big events on the church calendar, keeping in mind the demands they place on the facilities and the support staff.
6)      Room/date/time conflicts should be negotiated between ministries rather than facilities serving as the arbitrator. Only if necessary does the Executive Pastor serve as arbitrator.
7)      Guiding Maxims: The church provides the required ministries to fulfill its mission and vision and provides sufficient support services to facilitate the effectiveness, efficiency, and success of those ministries. Accomplishing the church's mission is our primary objective. Support services are essential to achieving that objective.
 When a Ministry Team and the Communications Team disagree on a promotional strategy, who has authority?
1)      When it involves "Style Guide," timeline, vendor outsourcing, and cost related questions the Communications Team has the authority.
2)      When it involves design, size, scope, and editing/messaging related questions, the Ministry has the authority.
3)      When it involves questions of platform placing (priority/visibility of messages in various communications platforms) the Communications Director in consultation with the Executive Pastor and/or Senior Leadership Team determine the primary and secondary messages in a given time frame.
4)      Guiding Maxims: Ministries know their message and understand their target audience better than the Communications Team does, and they are the ones who have to live with the results of a communications strategy for their ministry. We depend upon the Communications Team to keep us aware of and to offer current church communications best practices, tools, and platforms. Senior Leadership is responsible for global prioritization of messaging.
 How do I consistently seek to foster better relationships with both Support Teams and Ministry Teams?
1)      Use recognition to foster staff relationships. From your office, provide a variety of recognition initiatives to both ministry and support teams and encourage staff to do the same across departments, especially after peak load, high impact, and over and above ministry experiences.
2)      The quickest way for a supervisor to communicate they care about their reports is to provide opportunities for their development
3)      Continually strategize ways to improve on the 12 Key Factors to Employee Engagement
How do I show support for Ministry Team endeavors but also empower Support Teams to do the job we've tasked them to do?
1)      Unpack the above Guiding Maxims and decision making criteria in all-staff meetings as well as in separate meetings with ministers and support staff.
2)      Develop, teach, recognize, and celebrate staff values.
3)      Consider a staff exercise to develop mutually agreed upon plumb lines that establish what is priority and aid in decision making.
4)      Be proactive rather than reactive in providing support services sufficient personnel and budget to accommodate growing ministry requests.
5)      When arbitrating between ministries and support services, always provide both teams the "why" behind your decision, using it as an opportunity to reinforce criteria, policies, priorities, values, and mission and vision.
Other than providing vision and church-wide direction, should a member of the Senior Leadership Team have any authority outside of his ministry area to speak into direction of an individual pastor that doesn't report to him?
1)      For the good of the church and staff, open, non-threatening, non-defensive critiquing of each other's areas of ministry should be a value you strive to develop in a Senior Leadership Team. In reality, it takes time to develop, inevitably will create some tension, and some personalities will never give or receive it well.
2)      This is a theme found in virtually all of Patrick Lencioni's writings, most especially in The Five Dysfunctions of a Team and Death by Meeting and to a lesser degree in Silos, Politics and Turf Wars, Getting Naked, The Five Temptations of a CEO, The Advantage, and The Four Obsessions of an Extraordinary CEO. Lencioni offers practical exercises that promote healthy Senior Leadership Teams, specifically vulnerability and the ability to disagree and critique each other.
How do I get to a point where all these disagreements don't end up on the Executive Pastor's desk for discussion and decision?  
1)      Developing and communicating understandable and reasonable criteria in the form of policies, guidelines, or filters around recurring organizational decisions is the key to keeping all kinds of problems, disagreements, and decisions off your desk.
2)      Require staff to run any decision or question through the stated criteria BEFORE coming to you. Well-developed and well-communicated criteria will allow staff to answer most questions and make most decisions without your input.
3)      Make it clear to staff that they only come to you if a clarification of the criteria is needed, a request falls outside of the appropriate criteria, or if they wish to request a variance. Emphasize that variance requests should not be the norm and will only be considered if there are compelling and unusual circumstances.
4)      Most cross departmental disagreements center around the allocation of resources. When these types of disagreements are on the rise it may be a signal for Senior Leadership to get serious about addressing the facility budget, equipment, and support staff limitations that are at the root of the disagreements.
5)      Though resources are always finite, using resource allocation battles to teach the staff the value of an abundance versus scarcity mentality found in John 10:10 and Philippians 4:19, and advocated in Stephen Covey's, 7 Habits of Highly Effective People, can help mitigate resource allocation tensions.
---
Posted on November 27, 2018
Tags: managing cross department disagreementsmanaging staff tension