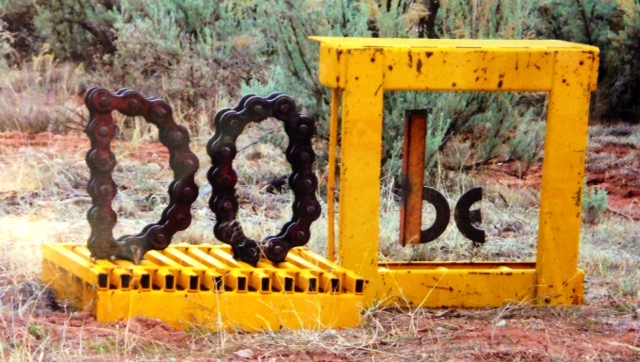 As you depart many churches today there are signs indicating "You are Now Entering the Mission Field."
The signs are there to remind attenders that missions is not just overseas but also where they live, work and play.
At the gate to Christ in the Desert Monastery in Northern New Mexico there is a hand crafted metal sculpture that reads simply BE/DO.
The BE is enclosed in a square steel frame to symbolize the interior spiritual life. The DO is without borders to symbolize that our service to Christ is without boundaries.
As you depart the monastery and the sign comes into view, the BE precedes the DO.  This implies we must first nurture our inner spiritual lives if we desire to see Holy Spirit infused doing.
Like the biblical paradoxes of Heart and Head and Faith and Works, Being and Doing challenges every believer to strive for the appropriate integration of both in personal and church life.
Below is an attempt to clarify the difficulty of the challenge by comparing Being versus Doing, while admittedly painting with a very broad brush.
Application: Being and Doing Comparison
| | |
| --- | --- |
| BEING FOCUSES ON: | DOING FOCUSES ON: |
| Abstract | Concrete |
| Ideation | Implementation |
| Knowledge and Attitude | Skills and Habits |
| Spiritual Disciplines | Organizational Disciplines |
| Fruits of the Spirit | Fruits of Our Labor |
| Why You Do It | How You Do It |
| Let It Happen | Make It Happen |
| Internal Focus | External Focus |
| Inside Out | Outside In |
| With God | For God |
| Communion | Communication |
| Contemplative/Introspective | Activating/Initiating |
| Intimacy | Fellowship |
| Knowing and Experiencing God | Events/Programs |
| The Journey | The Destination |
| Life Transformation Stories | Growth Goals and Numbers |
| Worship as a Lifestyle | Worship as a Corporate Event |
| Nurturing and Maturing  Believers | Reaching the Unbeliever |
| Discipleship and Equipping | Service and Missions |
| Slow and Deep Discipleship | Fast and Shallow Discipleship |
| Fewer Deeper Relationships | More but Shallower Relationships |
| Being Relational | Being Intentional |
| Social Interaction Thru Discipleship | Social Interaction Through Service |
| Listening/Sharing/Questioning | Boldness/Proclaiming/Prophecy |
| Being Salt and Light | Doing the Work of an Evangelist |
| Telling Your Story | Telling God's Story |
| Being Missional as a Lifestyle | Doing Missions as a Project |
| Heart | Head |
Anecdotal evidence suggests that individuals either by personality or preference are inclined to favor one over the other.
Even churches and denominations tend to gravitate towards either a Being or Doing orientation. This points to the challenge before church leaders to appropriately allocate both into their lives and churches.
Action: What is your experience? Which is your preference? What would you add to this list?
---
Posted on May 13, 2014
Tags: Being and DoingParadoxSoul Care