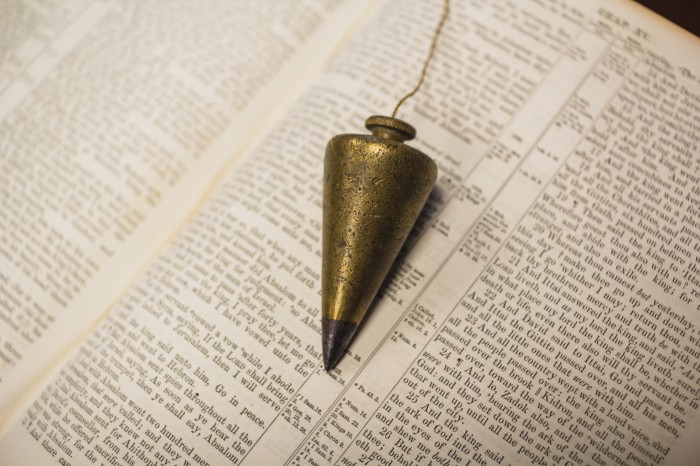 In their widely read book, Fresh Encounter, Henry Blackaby and Claude King, challenge church leaders to be shepherds of the people they serve. They suggest several passages of scriptures to use as "plumb lines" for shepherds of God's people.
Below are selected passages and questions Blackaby and King provide to help you evaluate how God views your work as a spiritual leader
Plumb Lines for Shepherds
 Numbers 27:16-17: "Let the Lord, the God of the spirits of all flesh, set a man over the congregation, who may go out before them and go in before them, who may lead them out and bring them in, that the congregation of the Lord may not be like sheep which have no shepherd."
Are you guiding God's people to be what God wants them to be as His people?
Psalm 78:70-72: "He also chose David His servant, And took him from the sheepfolds; From following the ewes that had young He brought him, to shepherd Jacob His people, and Israel His inheritance. So he shepherded them according to the integrity of his heart, and guided them by the skillfulness of his hands."
Are you shepherding God's people with integrity of heart and with skillful hands?
Isaiah 40:11: "He will feed His flock like a shepherd; He will gather the lambs with His arm, and carry them in His bosom, and gently lead those who are with young.
Do you love the people and gently lead them? Or do you have hard feelings toward them and treat them harshly?
Jeremiah 3:14-15: "Return, O backsliding children," says the Lord; "for I am married to you. I will take you, one from a city and two from a family, and I will bring you to Zion. Then I will give you shepherds after my own heart, who will lead you with knowledge and understanding."
Will you allow God to make you a shepherd after His own heart? Will you lead with knowledge and understanding of God, His purposes, and His ways?
Jeremiah 10:21: "For the shepherds have become dull-hearted, and have not sought the Lord; Therefore they shall not prosper, and all their flocks shall be scattered."
Is prayer your primary planning strategy whereby you ask God for every direction and wait until He shows you?
Jeremiah 23:1-4: "Woe to the shepherds who destroy and scatter the sheep of My pasture!" says the Lord. Therefore thus says the Lord God of Israel against the shepherds who feed My people: "You have scattered My flock, driven them away, and not attended to them. Behold, I will attend to you for the evil of your doings," says the Lord. "But I will gather the remnant of My flock out of all countries where I have driven them, and bring them back to their folds; and they shall be fruitful and increase. I will set up shepherds over them who will feed them; and they shall fear no more, nor be dismayed, nor shall they be lacking," says the Lord.
Are you destroying or strengthening the sheep?
Are you scattering or gathering the sheep?
Are you driving the sheep away or are you bestowing care on them?
Are any of your sheep afraid? Terrified? Missing?
Are you taking care of the sheep God already has given you? (Healthy and contented sheep are fruitful and multiply.)
Ezekiel 34:2: "Son of man, prophesy against the shepherds of Israel, prophesy and say to them, 'Thus says the Lord God to the shepherds: "Woe to the shepherds of Israel who feed themselves! Should not the shepherds feed the flocks? You eat the fat and clothe yourselves with the wool; you slaughter the fatlings, but you do not feed the flock. The weak you have not strengthened, nor have you healed those who were sick, nor bound up the broken, nor brought back what was driven away, nor sought what was lost; but with force and cruelty you have ruled them. So they were scattered because there was no shepherd."
Are you more concerned about taking care of yourself than taking care of God's sheep?
Acts 20:28-30: "Therefore take heed to yourselves and to all the flock, among which the Holy Spirit has made you overseers, to shepherd the church of God which He purchased with His own blood. For I know this, that after my departure savage wolves will come in among you, not sparing the flock. Also from among yourselves men will rise up, speaking perverse things, to draw away the disciples after themselves."
Are you keeping watch over the flock and protecting them from the wild animals that destroy and the false teachers that lead astray?
1 Peter 5:1-7: "The elders who are among you I exhort, I who am a fellow elder and a witness of the sufferings of Christ, and also a partaker of the glory that will be revealed: Shepherd the flock of God which is among you, serving as overseers, not by compulsion but willingly, not for dishonest gain but eagerly; nor as being lords over those entrusted to you, but being examples to the flock; and when the Chief Shepherd appears, you will receive the crown of glory that does not fade away."
Are you serving out of duty or love?
Do you lead by your position and authority or by your example?
---
Posted on May 17, 2016
Tags: God' Plumb LinesShepherdsSpiritual Leadership