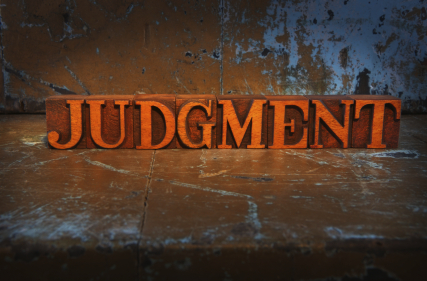 In our last post we examined the definitions, examples, and differences in using good judgment and being judgmental. In this article we take a look at specifically what the Bible says and means about judging others.
Jesus' command not to judge others is one of the most widely quoted of His sayings, even though it is frequently quoted in disregard of its context. Here is Jesus' statement: "Do not judge, or you too will be judged" (Matthew 7:1). Many people use this verse in an attempt to silence their critics, interpreting Jesus' meaning as "You don't have the right to tell me I'm wrong." Taken alone, Jesus' command "Do not judge" does seem to preclude making negative assessments of others. However, there is much more to the passage than those three words.
The Bible's command that we not judge others does not mean we cannot show discernment. Immediately after Jesus says, "Do not judge," He says, "Do not give dogs what is sacred; do not throw your pearls to pigs" (Matthew 7:6). A little later in the same sermon, He says, "Watch out for false prophets. . . . By their fruit you will recognize them" (verses 15–16). How are we to discern who are the "dogs" and "pigs" and "false prophets" unless we have the ability to make a judgment call on doctrines and deeds? Jesus is giving us permission to tell right from wrong.
Later we are told to gently confront erring brothers or sisters in Christ (Galatians 6:1). We are to practice church discipline (Matthew 18:15–17). We are to speak the truth in love (Ephesians 4:15).
Elsewhere, Jesus gives a direct command to judge: "Stop judging by mere appearances, but instead judge correctly" (John 7:24). Here we have a clue as to the right type of judgment versus the wrong type. Taking this verse and some others, we can put together a description of the wrong types of judgment.
Wrong Types of Judgment
Superficial judgment is wrong. Passing judgment on someone based solely on appearances is wrong (John 7:24). It is foolish to jump to conclusions before investigating the facts (Proverbs 18:13). Simon the Pharisee passed judgment on a woman based on her appearance and reputation, but he could not see that the woman had been forgiven; Simon thus drew Jesus' rebuke for his unrighteous judgment (Luke 7:36–50).
Hypocritical judgment is wrong. Jesus' command not to judge others in Matthew 7:1 is preceded by comparisons to hypocrites (Matthew 6:2, 5, 16) and followed by a warning against hypocrisy (Matthew 7:3–5). When we point out the wrong doing of others while we ourselves err in the same way, we condemn ourselves (Romans 2:1).
Harsh, unforgiving judgment is wrong. We are "always to be gentle toward everyone" (Titus 3:2). It is the merciful who will be shown mercy (Matthew 5:7), and, as Jesus warned, "In the same way you judge others, you will be judged, and with the measure you use, it will be measured to you" (Matthew 7:2).
Self-righteous judgment is wrong. We are called to humility, and "God opposes the proud" (James 4:6). The Pharisee in Jesus' parable of the Pharisee and the tax collector was confident in his own righteousness and from that proud position judged the publican; however, God sees the heart and refused to justify the Pharisee's sin (Luke 18:9–14).
Untrue judgment is wrong. The Bible clearly forbids bearing false witness (Proverbs 19:5). "Slander no one" (Titus 3:2).
The full body of Scripture should be carefully examined for comprehensive meaning and understanding of judging others. Yet, even with a biblical understanding, judging others, especially as a church leader, is a slippery slope. Next week, in our final article in this series, we will look at two types of judging…..condemning and evaluating.
---
Posted on August 13, 2019
Tags: judging othersjugmentjugmental