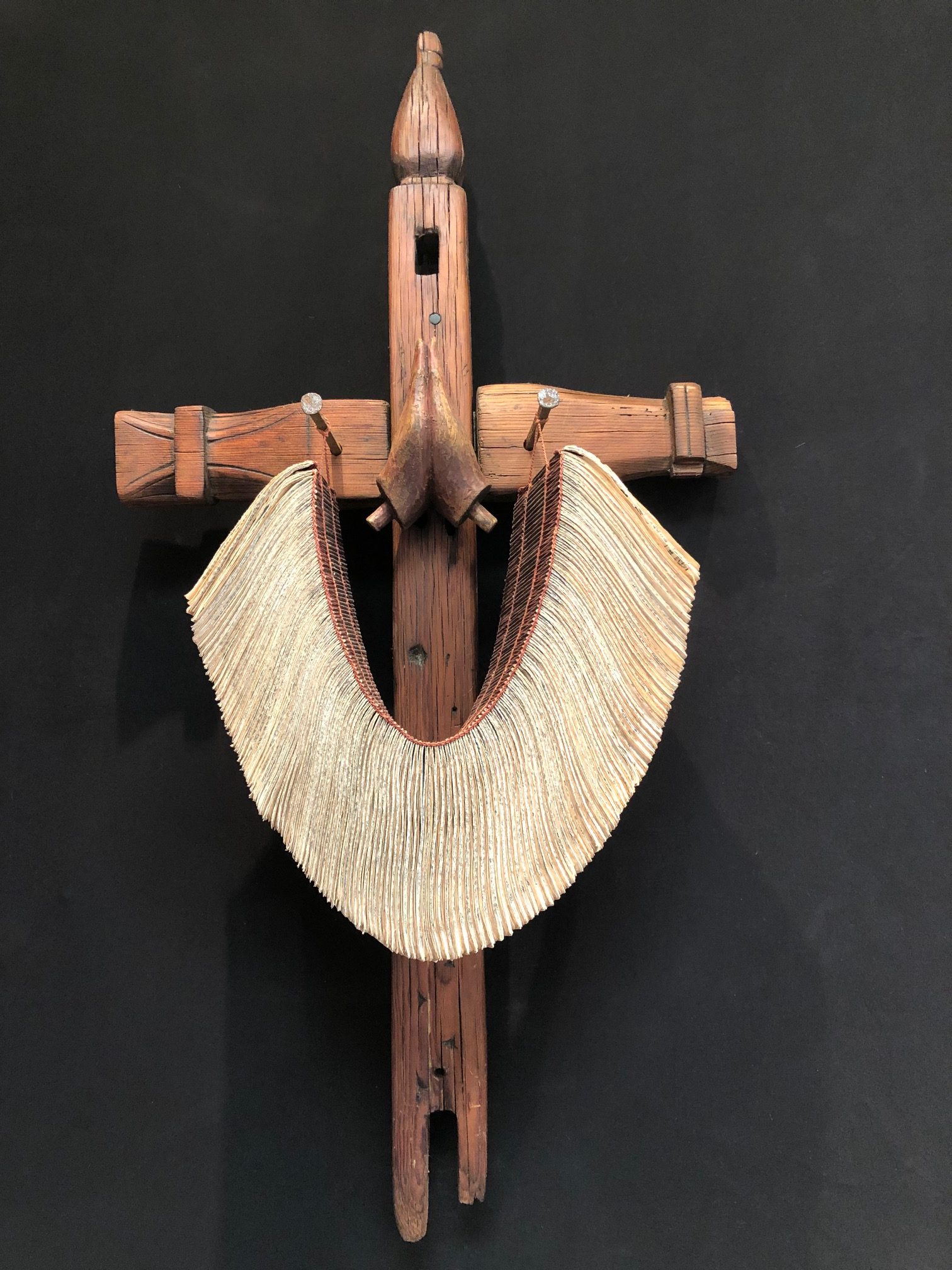 Medium: Reclaimed Antique Asian Cedar Furniture Parts, Tung Oil Finish, Antique Nail Spikes, 19th Century German Bible, Nepalese Paper, Waxed Linen Thread, Ethiopian Coptic Stitching
Artist Statement: In Matthew 6:5-15, Jesus provides a way to pray to God the Father. Catholics call this "The Our Father Prayer," and Protestants call it "The Lord's Prayer." Some believe the prayer should be recited verbatim, while others advocate it should serve as a model for our prayers. For those who want to use it as a structure for their prayers, here is how it breaks down. "Our Father in heaven" is teaching us whom to address our prayers to—God the Father. "Hallowed be your name" is telling us to worship and praise God. The phrase "your kingdom come, your will be done on earth as it is in heaven" is a reminder to us that we are to pray for God's plan in our lives and the world. We are encouraged to ask God for the things we need in "give us today our daily bread." "Forgive us our debts, as we also have forgiven our debtors" reminds us to confess our sins to God, and to forgive others as God has forgiven us. The end of the prayer asks God to give us the strength to overcome evil.
Regardless, The Lord's Prayer is a venerated prayer of the Christian tradition because it is the founder of our faith teaching us how to pray. This sacred art structure is a visual representation of that prayer and is constructed with Far East furniture parts formed into a cross, with an attached pair of wood carved praying hands set between an altered antique Bible.
38H X 20W X 7D
Price:
Contact Jim to Purchase
More Images