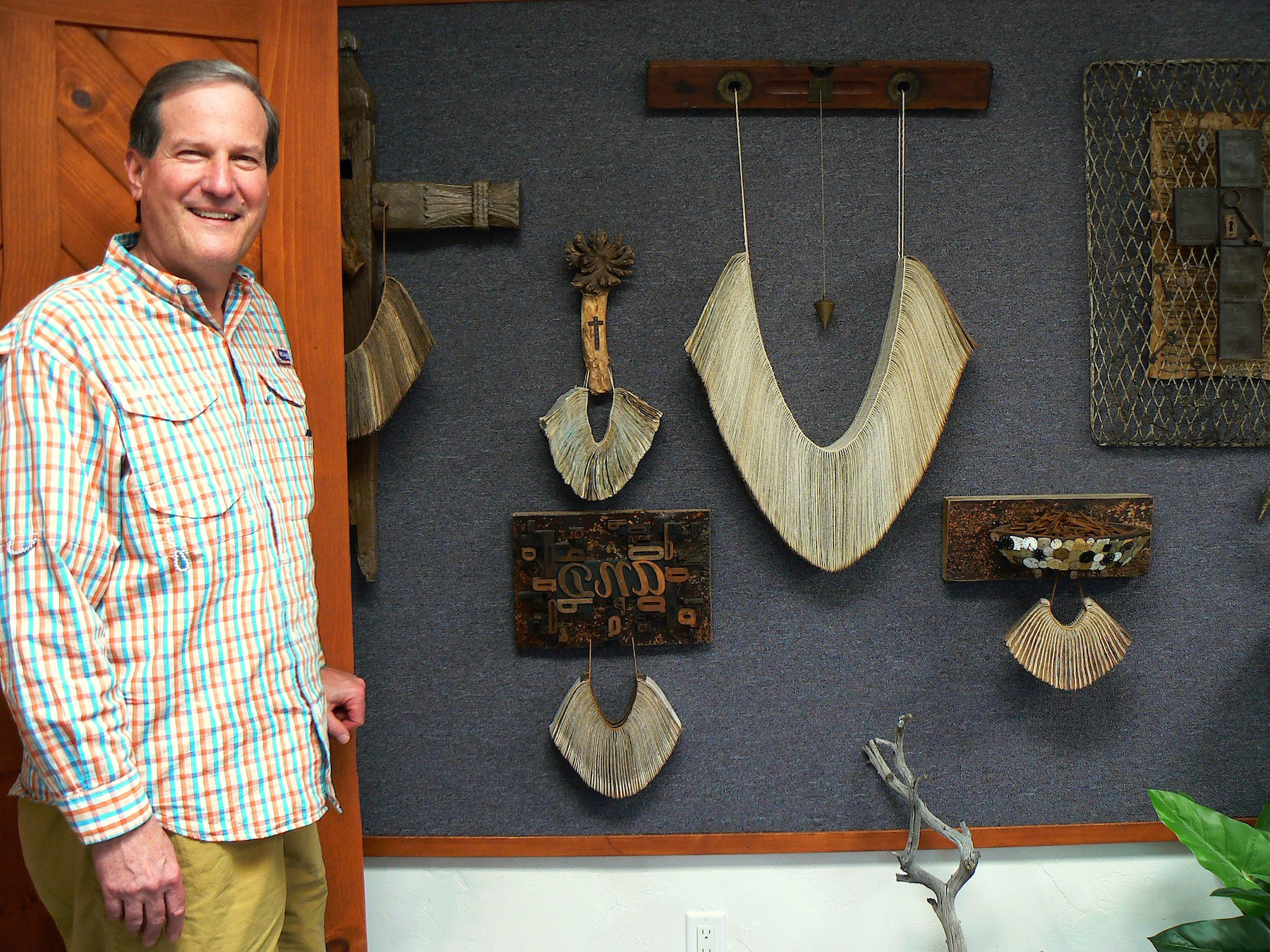 In his spare time Jim exercises his passion for sacred art, creativity and structure by repurposing vintage bibles, hand carved and painted pieces, weathered wood and cast away items into representations of biblical metaphors and religious symbols.
It's not surprising that Jim's experience as a Baptist minister informs his sacred art work. "My art conveys the belief that Holy scripture cannot be fully interpreted and applied without metaphor, symbol and story. Jesus took what he saw around him…….animals, flowers, trees, vines, bread, wine, yokes and used them as metaphors and parables to communicate spiritual truth. My art reflects the deep connection between the Holy scriptures of my Judeo-Christian faith tradition, the Torah and the Bible, and the metaphors and symbols requisite to their understanding."
The pages of each worn and weathered Bible are carefully and prayerfully torn and sewed back together with an ancient Coptic Christian stitching and draped over a religious metaphorical or symbolic structure.
Jim says, "The inspiration to re-stich old Bibles comes the word religion derived from the Latin word, Re-ligio, meaning re-binding, or God's attempt to use everything to connect us to God, self and others. The U-shaped drape of the repurposed Bible represents God speaking through his word as the outer authority of our lives. The contents of the container represents the inner authority of our lives, the communing with God through the heart, soul, spirit, prayer and contemplation."
Jim further shares, "The sacred art structures I make with Holy Scripture draped from hand made crosses is inspired by my belief that the eternal Word became flesh and lived among us, no doubt because the written word was insufficient and we needed Jesus, the Christ, to show us the nature of God."
Jim says this about his sacred art work, "My position in the church has always demanded I spend most of the day in my left brain. Working on my sacred art structures lifts me into a new mindset. When I'm working on my art, all my concerns fade away and I am moved by a greater sense of God's presence."
Jim's work has been shown at Recycle Santa Fe Art Festival, Abiquiu Studio Tour, The Lavender Festival, Gallery Arriba, Fuller Lodge Art Center, and this coming Summer at Jemez Fine Art Gallery.
Simply click on the picture for a description and pricing for each sacred art structure. The prices quoted for each piece does not include shipping. You may pay by check, credit card, debit card or Paypal.
If you have questions or desire to inquire about purchasing Jim's art you can contact him at jim@sacredstructures.org.